This plan was developed through the support of the full UBC Applied Science community, and with strategic oversight from the Strategic Planning Steering Committee and our Faculty's leadership.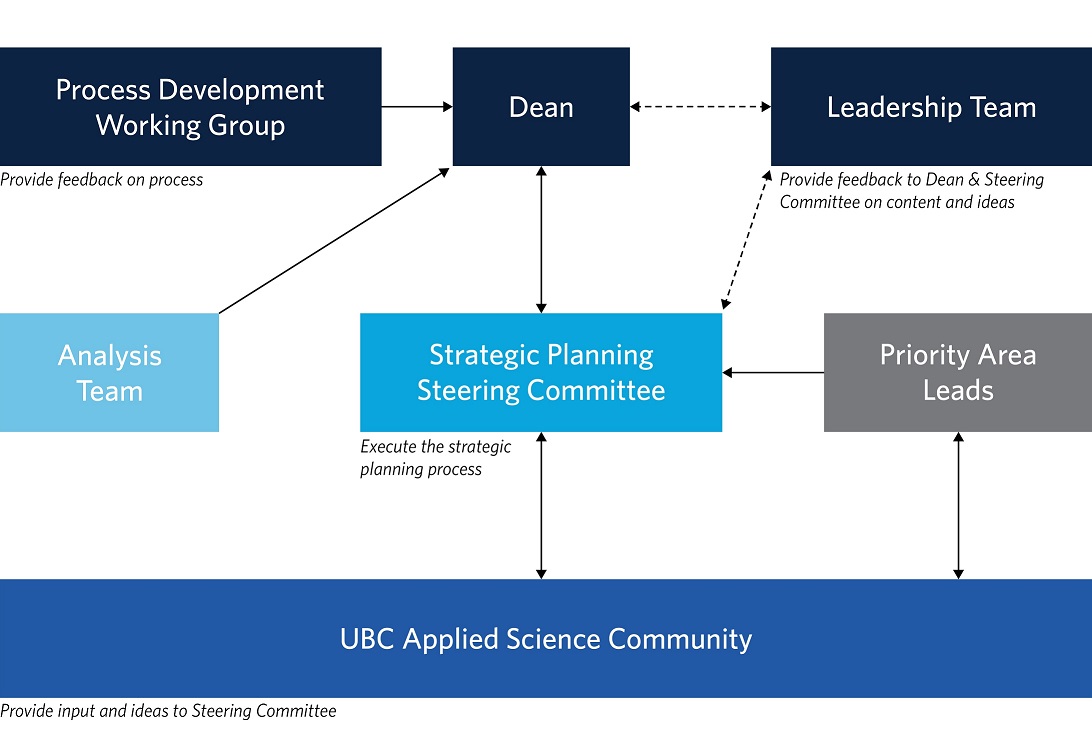 Steering Committee: Represented a cross-section of our Faculty: graduate and undergraduate students, senior and pre-tenured faculty, department heads and school directors, and senior administrative staff from within the 11 units of our Faculty across both campuses.
Process Development Working Group: Senior members of the Dean's External Advisory Committee worked with a small group of staff and faculty to develop the processes for engagement, analysis, implementation and communication. This Process Development Working Group also conducted a comprehensive environmental scan of socioeconomic data, peer institutional strategies, and student outcomes and ambitions.
Leadership Review Team: Dean, Associate Deans, Department Heads and School Directors and the Dean's Office Directors worked together with the Steering Committee in a series of workshops to test key components of the strategic plan and define the Faculty's vision, mission, values, commitments and priority areas.
Priority Area Leads: Associate Deans and Dean's Office Staff Leads further developed each priority area, and conducted a series of community consultations to define strategies for success.
Analysis Team: The Dean and Staff Leads strength-tested the strategic plan against uncertain futures.
Aaron Griffith
Director, Finance
Ailish Statham
Senior Manager, Special Projects & Facilities
Alan Hutton
Chair, Dean's Advisory Council
Bernard Laval
Head – Civil Engineering
Bhushan Gopaluni
Associate Dean, Education & Professional Development
Carol Jaeger
Associate Dean, Academics
Caryn Dooner
President, Nursing Student Society – School of Nursing, 2018/2019
Charles Haynes
Head – Chemical & Biological Engineering
Colin Wilson
Dean's Advisory Council member
Daan Maijer
Head – Materials Engineering
Darla LaPierre
Business Manager – Electrical and Computer Engineering
Debbie Woo
Senior Director, Development & Alumni Engagement
Denis Connor
Dean's Advisory Council member
Dick Fletcher
Dean's Advisory Council member
Edouard Asselin
Professor – Materials Engineering
Elizabeth Saewyc
Director – School of Nursing
Fionn Byrne
Assistant Professor – School of Architecture and Landscape Architecture
Fuchsia Howard
Assistant Professor – School of Nursing
Heather Campbell
Professor and Director – School of Community and Regional Planning
Heather Trajano
Professor – Chemical and Biological Engineering
James Olson
Dean, Faculty of Applied Science
Jody Swift
Director, Special Projects & Strategic Initiatives
Jon Nakane
Program Director – Integrated Engineering
Kasun Hewage
Professor – School of Engineering
Kelly Best
Director, Research & Industry Partnerships
Maged Senbel
Associate Professor – School of Community and Regional Planning
Megan Wallace
Director, HR
Michael Frazier
Graduate student, SALA
Mina Hoorfar
Director – School of Engineering, Okanagan
Naomi Zimmerman
Assistant Professor – Mechanical Engineering
Peter Englezos
Head (Term End 2019) – Chemical and Biological Engineering
Peter Zandstra
Director – School of Biomedical Engineering
Rehan Sadiq
Executive Associate Dean, School of Engineering, Okanagan
Richard Sones
Director, BPI
Rob Rohling
Director – Institute for Computing, Information and Cognitive Systems
Ron Kellett
Director – School of Architecture & Landscape Architecture
Sara Buse
Director, Experiential Learning and Academic Services
Scott Dunbar
Head – Mining Engineering
Sheryl Staub-French
Associate Dean, Equity, Diversity & Inclusivity
Steve Feng
Head – Mechanical Engineering
Steve Wilton
Head – Electrical & Computer Engineering
Tyra Phillips
President – Engineering Undergraduate Society, 2019/2020
Walter Merida
Associate Dean, Research & Industrial Partnerships
Yang Cao
Senior Instructor – School of Engineering